Dealership insurance provides unique protection no matter what you sell.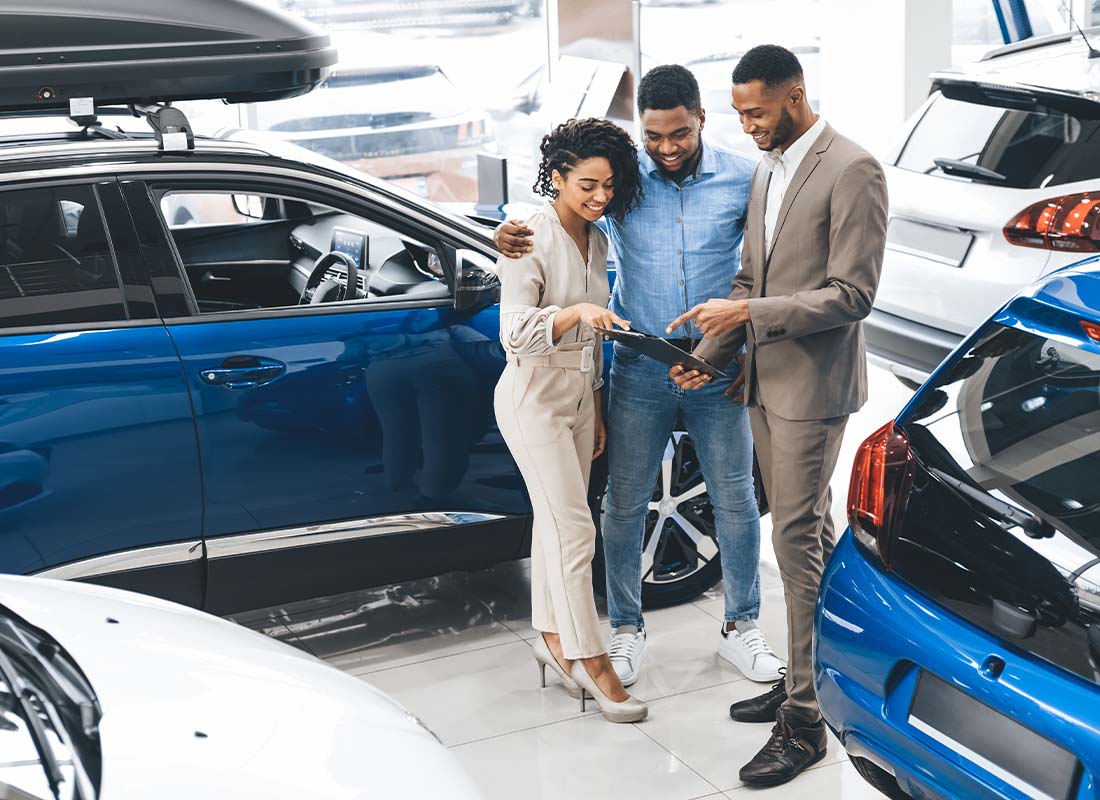 Keep your business running smoothly with dealership insurance.
Insurance for dealerships of different types and sizes.
Whether you sell vehicles or equipment, are a franchise or independent, or specialize in used or new products, your dealership needs an insurance policy that fits its specific needs. It's all too easy to overlook some of the risks for which you need protection.
Step 1

Click hotspots.

Step 2

Discover risks.

Step 3

Get coverage.
Dealers Errors and Omissions (E&O)
Risk Factor
As much as any business tries to avoid them, mistakes can happen. Whether it's an error on loan or lease forms or a vehicle's history is misrepresented, someone could file a lawsuit if they feel they were harmed by your dealership. Even if the claims are meritless, they must be defended.
Solution
Dealers E&O can help cover the cost of defense if your dealership is sued. This coverage can also help pay for damages that may be awarded to another party. Policies should cover a range of errors and omissions situations such as title errors, violations of credit or leasing laws, and allegations of negligence in recording a used vehicle's history.
Garagekeepers Liability
Risk Factor
Your business has a responsibility to protect the property of others when it is left with you. If your dealership includes a repair facility or you temporarily hold a vehicle that belongs to a customer, you could be held financially liable for damages to that vehicle while it is in your care, custody, and control.
Solution
You should purchase physical damage coverage, referred to as garagekeepers coverage, designed to help you protect your customers' property and your business in the event that accidents, injuries, or property damage occurs. This protection covers the costs that arise from unfortunate and unforeseeable events, not bad workmanship, faulty parts, or warranties.
Sign Coverage
Risk Factor
Exterior signs associated with your business are vulnerable to fire, vandalism, and weather. Most commercial property policies offer a sublimit of coverage for signs, but it might not be enough.
Solution
Evaluate your sign exposures and determine if your existing commercial property insurance policy provides sufficient coverage. If not, increase the policy limit as required.
Pollutant Cleanup and Removal
Risk Factor
Dealerships face significant pollutant risks through their use of solvents, cleaning agents, paints, and other potentially harmful products. Spills could not only result in cleanup expenses, but you could also be held responsible for damage to third parties, as well as fines.
Solution
Pollutant cleanup and removal insurance can help to cover the costs of injuries and property damage that occurs as a result of a pollutant spill or leak. This could include coverage not only at your place of business, but also spills that occur while your pollutants are being transported for disposal. If your dealership has an underground tank, this coverage is a must.
Dealers Open Lot
Risk Factor
Your inventory is your livelihood. Cars can get damaged in a number of possible ways, including collisions, weather events, or fire. There's also a risk that vehicles could be stolen while unattended or under the guise of a test drive.
Solution
Dealers open lot (DOL) offers coverage for physical damage to vehicles for specific losses named in the policy, which may include things like fire and theft. Coverage can vary based on how protected or open a lot is and can include driveaway collision for times when your vehicles are in transit to another location and false pretense for when a vehicle is taken fraudulently.
Business Income / Business Interruption
Risk Factor
What would you do if a fire impacted the operation of your business? Or what if a pipe leak caused damage to your facility so that you couldn't open? These and other events can destroy your ability to see customers and bring in revenue, which can have a major long-term impact on the viability of your business.
Solution
Business interruption insurance compensates you for lost income if your business cannot operate as normal due to damage that is covered under your commercial property insurance policy, such as fire or water damage. This type of insurance covers the revenue you would have earned based on your financial records, had the incident not occurred. The policy also covers continuing operating expenses such as rent, electricity, and ordinary payroll.
Workers' Compensation
Risk Factor
If one of your employees receives an injury or becomes ill due to a work-related occurrence, you are required by law to have the proper coverage in place.
Solution
Workers' compensation insurance protects your employees in the event that a job-related injury or sickness occurs during the course of their employment. This coverage is required by law, so be sure that your business has it.
Employment Practice Liability Insurance (EPLI)
Risk Factor
On average, it's estimated that three out of five businesses will be sued by their employees. While there is nothing you can do to prevent someone from filing a lawsuit, you can limit the costs of defending a legal claim with proper insurance coverage.
Solution
Obtain employment practice liability insurance (EPLI) to protect your business from alleged employment-related acts such as wrongful termination, failure to promote, discrimination, and sexual harassment.
Commercial Umbrella
Risk Factor
What happens when your business faces a large liability loss that exceeds the basic limit of your standard policy?
Solution
A commercial umbrella insurance policy provides high limits of insurance, typically between $2 million and $10 million. Coverage is extended over your general liability, workers' compensation, and business auto insurance. It provides a great safety net and helps to secure protection for your dealership.
Employee Dishonesty
Risk Factor
Given the potentially high value of the vehicles you sell and the amount of financial information you collect, your business is at risk for theft. What if one of your trusted employees is found guilty of doing something dishonest as it relates to his or her work with you?
Solution
Crime coverage can be obtained in your commercial property insurance, but coverage is very limited. Consider obtaining a standalone crime coverage policy that includes employee dishonesty coverage.
Cyber Liability
Risk Factor
The internet has spun a whole new web of liability exposures. E-commerce, social networking, cloud storage, and other technologies bring great benefits to large and small dealerships alike. But with these benefits also come challenges, including protection of privacy, data, and the financial information of your customers.
Solution
Cyber liability insurance protects your business in the event of unauthorized access to electronic data or software within your network. It also provides coverage for spreading a virus, extortion, accidental release of personal identifiable information, and resultant damage caused by a lost or stolen laptop or other mobile device. This coverage is quickly becoming more and more important as you embrace technology to help run your business.
Commercial Property
Risk Factor
Any commercial property is at risk for damage due to fire or other events. Not only is your building and other structures on your property susceptible, everything inside from office furniture to inventory is at risk as well.
Solution
Commercial property insurance can help protect the property your business owns or leases, including things like equipment, inventory, furniture, and fixtures. Whether you own your building or lease the space, commercial property insurance can be purchased separately or can be combined with other necessary coverage to protect your business' physical assets.
Garage Liability
Risk Factor
You have many exposures associated with the operation of your dealership, including premises, auto, products/completed operations. Even a single auto accident or mechanic's error can potentially put your business in financial jeopardy.
Solution
Garage liability insurance provides comprehensive coverage for bodily injury, property damage, and other liability exposures as they relate to the operation of your dealership and its parts and service departments.
Coverage for the vehicles you sell.
You don't just need to think about insurance for your premises and stock. You also need to explore whether you face any risks of lawsuits if people suffer injuries or damage from using the equipment or vehicles you sell. If you're dealing with new goods, you may need to protect yourself against the risks of having to recall a particular model.
  What is garagekeepers coverage?
This helps protect against damage to the visitor's car, including theft or vandalism. For example, if visitors leave their own vehicle on your premises while taking a prospective new vehicle for a test drive or while negotiating a trade-in, you may be legally required to have garagekeepers coverage.
  What is dealers errors and omissions liability?
This may help cover the cost of defense if your dealership is sued, and may also help pay for damages that may be awarded to another party. Policies might also cover a range of errors and omissions situations such as title errors, violations of credit or leasing laws, and allegations of negligence in recording a used vehicle's history.
The business side of dealership insurance.
Don't forget to make sure your insurance covers more general business elements such as personal liability for visitors to your premises, workers' compensation for staff, and employment practice liability insurance to cover your business against discrimination claims and other human resources risks.
To find out more about dealership insurance, contact us to go over your business needs and coverage options.
Step 1

Fill out the form.

Step 2

Review your options with us.

Step 3

Get the coverage you need.
Dealership Insurance Quote Request
"*" indicates required fields