Ocean marine insurance helps you stay afloat during a loss.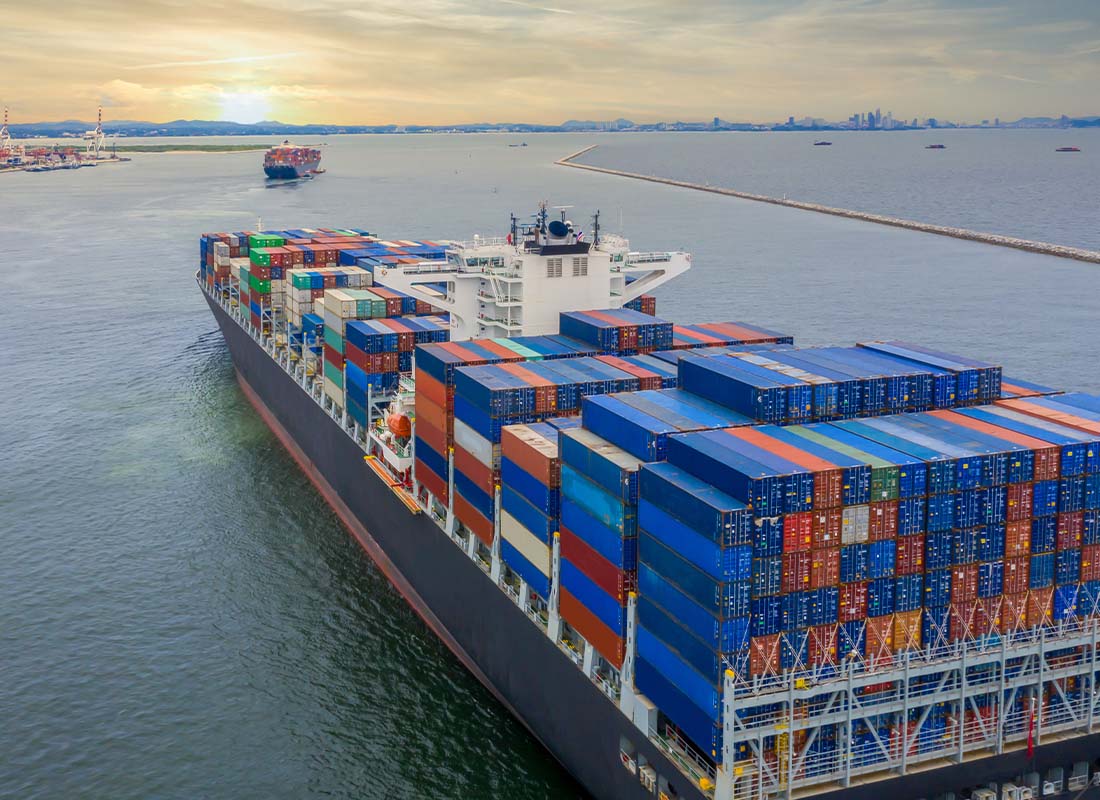 Protect cargo and vessels while in transport with ocean marine insurance.
The real risks of transporting cargo by sea.
As the saying goes, "worse things happen at sea." And, believe it or not, this saying holds true when it comes to shipping goods across the ocean. Ocean cargo services face a surprising range of risks. As expected, these risks include the dangers of collisions with other ships or running aground, but there's also the threat of modern-day piracy, as well as the dangers of fire.
Step 1

Click hotspots.

Step 2

Discover risks.

Step 3

Get coverage.
Jones Act
Risk Factor
The Jones Act is a federal law that mandates compensation to crew members who are injured as a result of negligence while on the job. Standard workers' compensation insurance does not provide coverage for crew members, and a separate statute, The Harbor Workers Compensation Act, provides coverage for non-crew members.
Solution
Any organization that has crew members among their employees should be sure to have Jones Act coverage added to their policy. This coverage is not automatically added to most boat insurance policies, increasing the risk of exposure to large liability claims.
United States Longshore and Harbor Workers' Compensation Act (LHWCA)
Risk Factor
Non-crew members could be injured or killed on the job, but if that happens while working on navigable waters in the US, including any adjoining pier, wharf, dry dock, terminal, building-way, marine railway, or other adjoining areas customarily used by an employer in loading, unloading, repairing, dismantling, or building a vessel, they won't be covered under traditional workers' compensation.
Solution
Employers can purchase LHWCA coverage to provide compensation to workers who are injured on the job in scenarios ordinarily excluded under workers' compensation. This includes coverage for divers, repair personnel, and equipment suppliers.
General Liability
Risk Factor
Water on the floor, slippery entry in the winter, broken glass, and hazardous debris. These are all accidents waiting to happen, and can make your business susceptible to claims due to bodily injury, property damage, personal injury, and other related risks.
Solution
General liability insurance is an absolute necessity for any business. It provides broad coverage when you are deemed responsible and liable, and will also pay to defend any covered lawsuit or action, regardless of its merit.
Workers' Compensation
Risk Factor
If one of your employees receives an injury or becomes ill due to a work-related occurrence, you are required by law to have the proper insurance coverage in place.
Solution
Maintain workers' compensation insurance to provide benefits to eligible employees. Otherwise, you can be penalized for every day that coverage is not maintained, as well as for any benefits an employee would have been eligible for in the event of a job-related injury or sickness.
Business or Commercial Auto
Risk Factor
You may have many exposures associated with your business vehicles—owned or leased. With a fleet of cars, trucks, vans, or other types of vehicles used in the course of business, a single accident can potentially put your business in financial jeopardy.
Solution
Business auto insurance provides coverage for vehicles owned or leased by a contractor and provides coverage for bodily injury, property damage, and other exposures, and could include comprehensive and collision coverage as well.
Commercial Umbrella
Risk Factor
What happens when your business faces a large liability loss that exceeds the basic limit of your standard policy?
Solution
A commercial umbrella policy provides high limits of insurance, typically between $2,000,000 and $10,000,000. Coverage is extended over your general liability insurance, workers' compensation, business auto, as well as directors and officers liability coverage. It provides a great safety net and helps ensure your business is well protected.
Marine Cargo Insurance
Risk Factor
The cargo being carried by your ship can be damaged or lost due to an accident or delays during transport and unloading. Cargo can also be damaged on the way to the port, ship, or other forms of transport, such as rail and truck.
Solution
Marine cargo insurance offers protection against loss or damage to cargo in a variety of circumstances. This coverage is often required by contract. There are many different types of marine cargo policies depending on the circumstances and items in transit.
Equipment and Building Materials
Risk Factor
Your business' equipment is exposed to potential loss due to damage or theft. Without the specialized equipment your organization needs, operations may have to come to a halt. Similarly, if your building materials are damaged or stolen, your job may be put on hold.
Solution
Insurance coverage for your specialized business equipment, tools, and building materials is a must. The policy will cover equipment and materials for a variety of losses, including fire, explosion, vandalism, theft, collision with other equipment or objects, and overturning.
Commercial Property Coverage
Risk Factor
When a fire, theft, or another type of disaster strikes, your commercial property and everything within it can suffer a significant loss. This can have a detrimental effect on your business.
Solution
Commercial property insurance can help protect the property your business owns and leases, including things like equipment, inventory, furniture, and fixtures. Whether you own your building or lease your workspace, commercial property insurance can be purchased separately or can be combined with other necessary coverages to protect your business' physical assets.
Pollution
Risk Factor
Pollution and environmental contamination is an increasing risk that can occur due to improper storage and use of chemicals, run-off, fuel leaks, and other situations. Pollutant cleanup is generally excluded from basic insurance policies. Leaking from an aboveground or underground fuel tank, for example, can be very costly to remediate.
Solution
It is difficult to control pollution risks, but not impossible. You can protect yourself from this type of risk by obtaining environmental insurance that provides coverage for both bodily injury and property damage caused by a pollution incident. This type of insurance can provide coverage for clean up costs and third party lawsuits that result from contamination.
Insurance for ship operators and their clients alike.
Ocean marine insurance policies cover some or all of these risks and are essential if your business relies on goods getting to their destination across the ocean in a timely and safe manner. Both ship operators and clients can take out these types of policies. Usually, a client will take out a policy that only covers their own goods, but offers better coverage limits or a faster claims processing schedule. Here are the types of businesses that most likely need this type of coverage:
Shipyards
Ship Builders
Ship Operators
Importers/Exporters
Manufacturers
Traders
What coverages are included in ocean marine insurance?
While the specifics of your policy may vary, coverage typically extends to cargo, marine liability, pollution, protection and indemnity, and equipment. This type of policy is essential to have in order to help protect your day-to-day business operations.
Flexibility to customize your coverage needs.
There's a great deal of flexibility with ocean marine insurance, with the biggest divide being between policies that only cover specified risks and usually have lower premiums, as well as policies that cover any risks except for those that are specifically excluded.
Need ocean marine insurance for your business? Contact us to help walk you through the various coverage options.
Step 1

Fill out the form.

Step 2

Review your options with us.

Step 3

Get the coverage you need.
Ocean Marine Insurance Quote Request
"*" indicates required fields