Travel insurance provides coverage no matter where you're headed.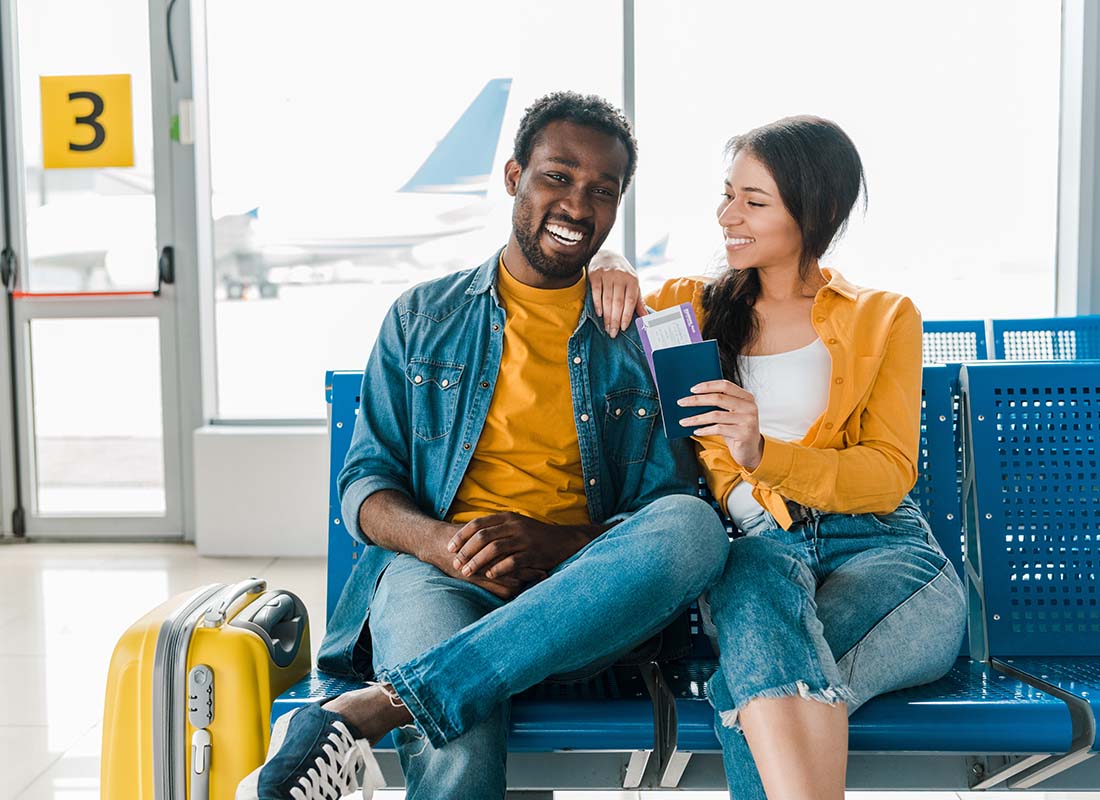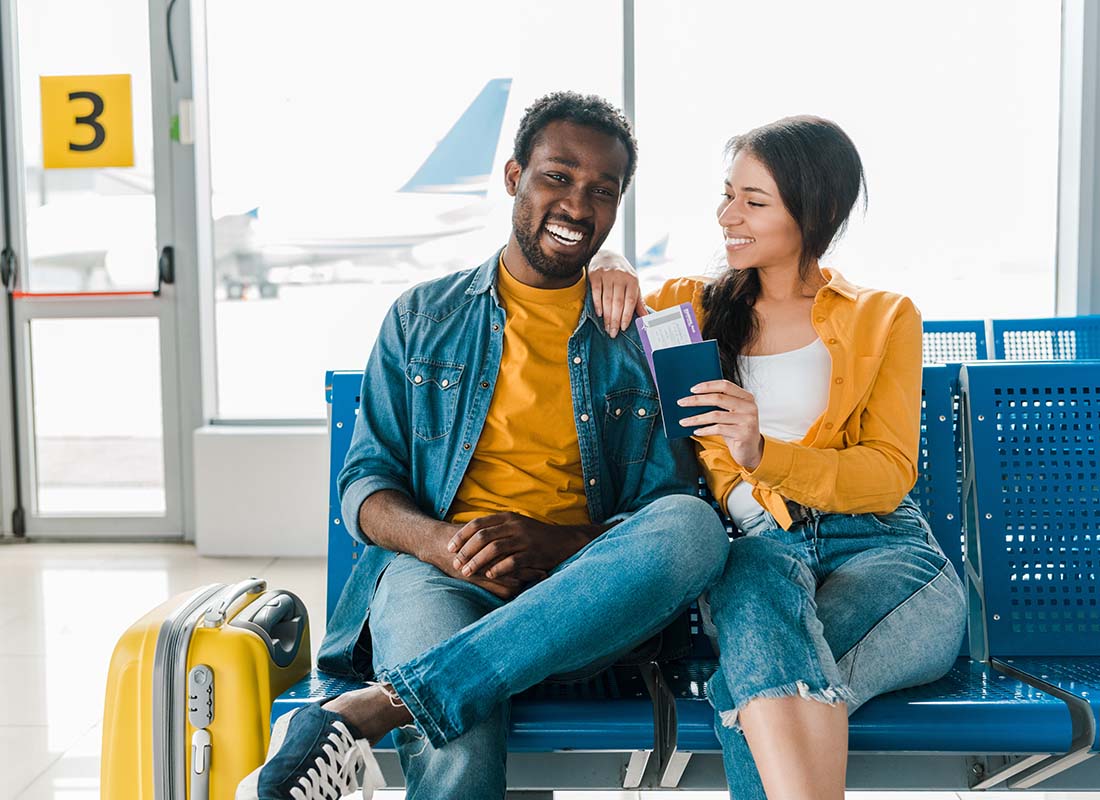 Relax and enjoy the journey by having the peace of mind of a travel insurance policy.
Get peace of mind when traveling.
Traveling is exciting, but there are risks associated with every trip. Whether for work or pleasure, reducing stress always improves the travel experience. Travel insurance may help to bring you peace of mind and may remove the risk of catastrophic financial costs.
Medical coverage is an essential option.
A travel policy has multiple optional elements, but one of the most important is medical insurance. You'll need coverage against both the costs of treatment and the costs of being brought back home. Without this coverage, you may be put under financial stress depending on the care you receive and the area you are traveling in.
Step 1

Click hotspots.

Step 2

Discover risks.

Step 3

Get coverage.
Trip Cancellation
Risk Factor
Your trip is all planned and paid for. You've got your plane tickets, your hotel is booked, and you're ready to go. Then tragedy strikes and you're forced to cancel your trip before you even get a chance to leave. Now, not only are you out the experience of your trip, you're out all the money you paid too.
Solution
Trip cancellation insurance applies to situations where you have to cancel your trip because of a covered reason before you're able to leave. Some covered reasons include illness, injury, or death of a family member or the traveler, natural disasters that make the trip impossible, and more. This coverage can reimburse you for the prepaid, non-refundable expenses related to your trip.
Trip Interruption
Risk Factor
You're on your trip, enjoying the amazing sites and having fun. The food is good, your accommodations are nice. This trip was definitely worth the money. But when an unfortunate emergency occurs and you're forced to end your trip early, you're not only missing out on the last leg of your trip, but you're out the money you paid for the rest of it.
Solution
Trip interruption insurance is an essential coverage for those emergencies and situations you just can't predict while you're traveling. If you're forced to cut your trip short due to a covered reason—like a serious illness, a death in the family, a natural disaster that makes continuing the trip impossible, and more—this coverage can help you recoup your losses. It can help reimburse you for prepaid, non-refundable, and unused expenses, and it can also help you cover the costs to return home early.
Missed Flights
Risk Factor
Traveling by plane means a lot of coordination and many circumstances beyond your control can wreak havoc on your plans. All it takes is one incident to make you miss your flight and leave you stranded.
Solution
If missing flights is a big concern for you while you're traveling, this policy could be right for you. In the event you miss a flight due to a covered reason, you may be eligible for help with travel and accommodation expenses related to your missed flight. However, it's important to know what is and isn't covered—for example, not leaving enough time to get to the airport is not a covered event.
Medical Insurance
Risk Factor
When you travel, you get to explore new places and try new things, but injuries and illnesses can happen at any time. All it takes is the wrong food to land you in the hospital with a serious bout of food poisoning. Your standard health insurance may not cover you while you're traveling, and the resulting medical bills can be enormous.
Solution
If you find yourself sick or injured while traveling, travel medical insurance can help you cover the costs of your treatment. Some plans may be extended to groups and dependents. Other plans can also cover dental expenses.
Medical Evacuation and Repatriation
Risk Factor
If you're traveling internationally and suffer a serious injury or illness that requires you to be transported to the nearest qualified facility or your home country, those costs can add up quickly. If the worst should happen and you die while abroad, returning your remains to your home country can also come with a high price tag.
Solution
Medical evacuation and repatriation insurance is a form of medical coverage that supplements your standard travel medical insurance. It helps to cover the costs of evacuating you to the nearest qualified facility to treat your injury or illness. This coverage can also cover the costs of transporting a family member or friend to be by your side. If you were to die while abroad, the repatriation portion of the coverage helps to cover the costs of returning your body to your home country.
Loss and Delay of Baggage
Risk Factor
Everything you need for your trip is stored in your baggage. Clothing, toiletries, electronics, you name it, you probably have it packed. What happens if you arrive at your destination, but your baggage is delayed? What happens if your luggage gets lost, stolen, or damaged? Suddenly you're faced with having to buy replacements for everything you packed.
Solution
Getting coverage for loss and delay of baggage in your travel insurance policy can help you if you're suddenly without your luggage. If your bags are delayed, this policy can reimburse you for essentials you have to purchase, like toiletries, clothes, and more. If your bags are lost, the insurance company will help you try to track down your luggage, and if it can't be found, they'll reimburse you for the items. Coverage for stolen and damaged luggage varies, so be sure to check your policy.
Trip Delay
Risk Factor
When traveling, it's possible for unexpected delays to occur. When that happens, you could lose out on prepaid expenses and also incur new ones as you wait out the delay.
Solution
If you experience a delay in your travel plans due to a covered reason, trip delay insurance can help to cover some of the costs associated with it. For instance, it can reimburse you for lost expenses that you prepaid, and it can also help to cover things like accommodations, food, transport, and more as you wait out the delay. It's important to note that policies will define how long your delay needs to last for it to be covered—i.e. five hours—and there is a limit on the amount of reimbursement per day you'll be allowed.
Rental Vehicles
Risk Factor
Often when you travel by plane, train, and boat, you most likely won't have access to your vehicle and will have to rent one at your destination. If you get into an accident or damage the rental vehicle, you could be held liable for the damage.
Solution
While your personal auto insurance may extend to rental cars, there is a possibility that it won't. It's also possible the rental agency will offer you rental insurance, but for a hefty price. In that case, rental vehicle insurance can help you cover costs associated with an accident you're liable for while in the rented vehicle, such as costs to repair the vehicle.
Accidental Death and Dismemberment
Risk Factor
It's not pleasant to think about, but traveling can be dangerous. One second you could be having the time of your life, and the next, the worst could happen. Now you can't provide for the people you care about like you used to.
Solution
Accidental death and dismemberment insurance may be an important part of your travel insurance. It acts like a life insurance policy. You name a beneficiary and if you were to die or be dismembered while traveling, they would receive the benefits. This would be paid out in addition to any life insurance coverage you already have.
Travel Inconvenience
Risk Factor
There are so many moving parts when it comes to traveling. Your transportation, your accommodations, the activities and attractions you plan to visit, and more. If even one thing goes wrong, it could be a huge inconvenience to your entire trip.
Solution
Travel inconvenience insurance can help supplement your trip interruption and trip delay insurance. It helps to reimburse you for expenses if a covered and unforeseen event were to occur and disrupt your trip. This could include closed attractions, hotel construction, card cancellations, and more.
What else can your travel policy cover?
One of the key elements includes coverage for your baggage and possessions, which are at risk of being misplaced or stolen along your travels. In addition, you may want to consider coverage for the costs if you have to cancel a trip or return early. However, it's important to know that this may usually only cover specific reasons for cancellation, such as family bereavement or a medical emergency. You may also get coverage against missing a flight and the costs associated with that.
  Should you buy travel insurance?
Travel plans can be exciting, but plans can go awry. That's why having the backing of a travel policy may help bring you peace of mind knowing you have coverage.
Cover individual trips or invest in a one-year policy.
You can choose between a single-trip policy or one that covers all trips across a whole year. Which is a better value depends on how many trips you plan to make, as well as where you will be visiting. It's definitely worth considering since just two trips a year may make an annual policy worthwhile.
Considering a travel insurance policy? Contact us to go over your travel plans and potential coverage options.
Step 1

Fill out the form.

Step 2

Review your options with us.

Step 3

Get the coverage you need.
Travel Insurance Quote Request
"*" indicates required fields